Kevin Durant is one of the most unstoppable athletes in the NBA. He is a matchup nightmare. At 6'9", he possesses the length to shoot over nearly any defender who gets assigned to guarding him. He is a consistent 50/40/90 guy (50% field goal, 40% three-point, 90% free throw). Many feel like if it weren't for LeBron, he would be the best player in the NBA. He took a demolished franchise in the Supersonics/Thunder and alongside Russell Westbrook, revitalized them and made them one of the best teams in the NBA. He is a four time All-Star, a three time scoring champion, a four time All-NBA first teamer, and won Rookie of the Year in 2008. His accolades are piling up, and only at the age of 24, he has yet to reach his full potential. Yet the one accolade that will forever elude Kevin Durant is the MVP trophy. There is one main thing that will prevent Durant from capturing it.
LeBron James. Some argue the only player who is better than Durant in the NBA is LeBron. LeBron has backed that sentiment up by being the most dominant player in the NBA the past two years, and four out of the past five. LeBron has been absolutely dominant in nationally televised games, often times taking over the game single-handedly. Every time the Oklahoma City Thunder and Miami Heat face-off in a nationally televised game, LeBron always outshines Durant and that is something the voters remember. There is one thing that Durant can look at as a ray of hope in his hunt for an MVP. Derrick Rose broke through and won an MVP trophy in the 2010-11 season.
While LeBron statistically had a better year than Rose (only by a little bit though), the voters leaned towards Rose because of the success of his team and how he single-handedly kept his team in games and wowed the audiences with his spectacular moves on national television. It will be much harder for Durant to topple LeBron than it was for Rose to topple LeBron. For one, the Heat are in the midst of an amazing run atop the NBA, looking to three-peat as champions of the NBA. LeBron will play better than ever, with more confidence than ever, because no amount of hate could slow his game down now that he has won two straight NBA championships; LeBron himself said he wants to come back next season a new and improved LBJ.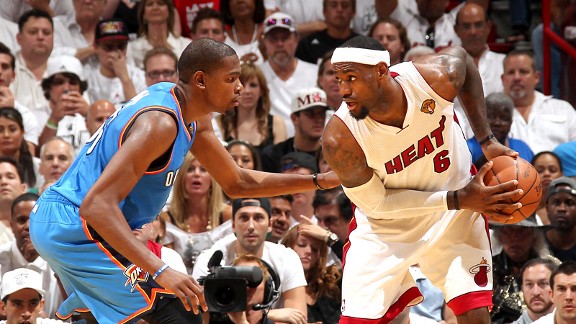 To topple LeBron, the Durantula will not only have to produce big numbers (30 points per game anyone?) during big games, but he will have to take the Thunder to a height that they have never experienced before. He will have to show a completely new side to his game that we haven't seen before. Durant will have to develop lockdown defense or the ability to get his teammates involved in the game more (much like LBJ does). But there are also things Durant cannot control, like the health of Russell Westbrook, or lack of scoring off the bench, that could potentially harm the Thunder's success this season and Durant's ability in getting an MVP trophy. The odds are stacked highly against Durant. He will have to capitalize on every moment he has to make a big play, especially in the fourth quarter. He will have to have humongous plays that build up his reputation.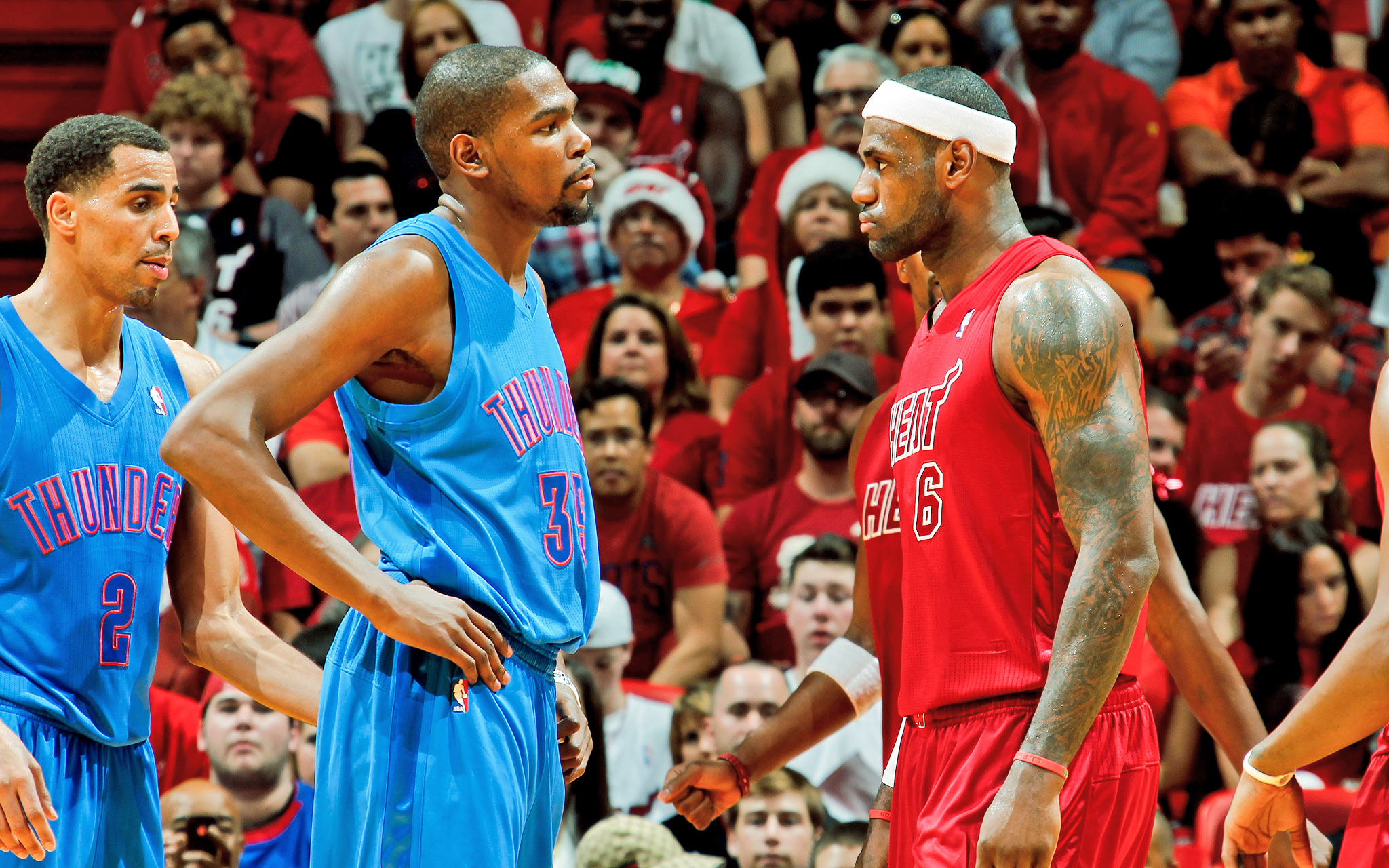 To be the best, you have to beat the best. Right now, LeBron James has been the best. Derrick Rose proved he was just as good (if not better) than Lebron in the 2010-11 season by beating the Heat in nationally televised games, outshining LeBron and giving the voters reasons not to vote for him. The problem with Durant is that he plays the same position as LBJ. LBJ has the ability to play multiple positions, and to guard multiple positions. LeBron could be stuck onto the other team's best player and shut him down. Durant can't defend multiple positions or play multiple positions. Durant isn't a lockdown defender, yet. Durant is struck with the unfortunateness of being in the prime of his career while LeBron is in the prime of his career. Durant doesn't have the body that LBJ does nor the ability to overtake LeBron at the peak of the mountain. While Durant may not focus on individual accolades, winning an MVP over LeBron would provide a psychological boost to him and his team in trying to thwart LeBron and the Heat from winning more championships, which is Durant's ultimate goal.
–