Many people don't understand why Cavs fans still hate LeBron James. They forget there was more than just "The Decision." The city of Cleveland has arguably the most loyal fan base in the nation. Although, they have been suffering for quite some time. The last championship in Cleveland was in 1964 when the Browns won the NFL Championship. Another championship is long overdue, which makes it even harder for the fans to move on from LeBron's departure.
Cleveland fans have a reason to dislike LeBron. To start, he said he wouldn't leave until he brought a championship to Cleveland. The Lyin' King stated, "I got a goal, and it's a huge goal, and that's to bring an NBA championship here to Cleveland. And I won't stop until I get it." Many people forget that he arguably quit against Boston during the Conference Semifinals in 2010. Specifically, Game 5 was the hardest playoff game for Cleveland to watch. Fans feared for the worst. It was LeBron's last game in his hometown. In a phone interview after The Decision, Dan Gilbert was convinced. "He quit. Not just in Game 5, but in Games 2, 4 and 6. Watch the tape. The Boston series was unlike anything in the history of sports for a superstar." Let's get to "The Decision," where LeBron didn't thank or mention Cleveland once throughout the whole hour. Near the end of the primetime event on ESPN, he arrogantly states "I'm taking my talents to South Beach," betraying his former city and team. He gave Cleveland the cold shoulder while basically admitting he couldn't be the man. Instead, he decided to join 2 other superstars in Miami. The last shot was the "not 1, not 2, not 3, not 4…" speech. There was no limit during that preseason party. He had the right to leave, but at least he could've shown some respect and dignity to the city that praised him for seven years.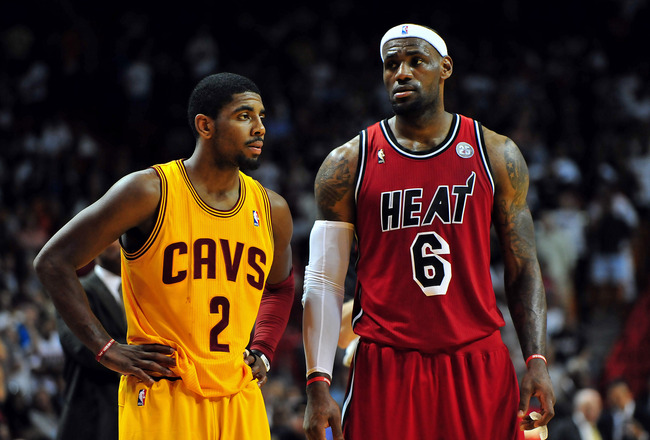 Three years later, it looks like LeBron made the right decision. Although, talk still continues around the nation of whether he was wrong for what he did to Cleveland in 2010. His reputation was dampened, but he still has a chance to fix that. There's a possibility that LeBron will return to Cleveland in the future. He wants to play on a championship quality roster, unlike the former squads he played with in Cleveland. After a few years of rebuilding, the Cavs have had four top five draft picks. Led by Kyrie Irving, this is a young team with a lot of potential. The Miami Herald interviewed LeBron during All-Star weekend, in which he mentioned "it was awesome to play with Kyrie." It'd be interesting to see what the two long-time friends can do on the court together. Not only does LeBron want to continue to win rings, but he also has to worry about his legacy. The best place to regain his reputation is in Cleveland. He has unfinished business in his home-state, where the fans have long deserved a championship.
There has been plenty of hardship between Cleveland and LeBron, but the fans would be crazy not to take him back. It has been three years. It is probably time for them to get over it. It is easier said than done if you're not in their position, though. I understand if the fans can only forgive him, but never forget. Currently, Cleveland fans seem to be split on whether they would welcome LeBron back. In a tweet earlier this year before the Cavs played Miami, Dan Gilbert urged fans "to focus on the road ahead." If the owner who despised LeBron in the post-decision letter can make amends with the King, anyone in Cleveland can. LeBron has the option to opt out of his contract and explore the open market next summer. Many teams will be after the superstar, but there's a good chance that he'll return to Cleveland in 2014.
It's still awhile from The Decision: Part 2, so Cavs fans shouldn't get their hopes up yet. There is a chance that LeBron comes back, but the fans shouldn't expect him or rely on him to return. The lower your expectations are, the less disappointed you are in the end. It would most likely just frustrate the fans and make them despise him even more. Anyway, it wouldn't be a complete disaster if James was never in a Cleveland uniform again. The current squad is young and talented with plenty of upside. They could continue to build around Kyrie Irving and make moves for the good of the current team. Cleveland has a chance to be like Oklahoma City if the young guys can fulfill their potential. The Cavs have to improve soon, but they can't rely on LeBron to make it happen.
In the history of the game, there has been no one like LeBron James. If he doesn't return, Cleveland fans might continue to root against him for the rest of his career. I hope the fans don't completely stop watching the NBA just because they are tired of seeing him win. He might not have the heart of MJ, but he has tantalizing skills like never seen before.
There is no denying that LeBron is the greatest player in the NBA. Personally, he's the reason I love the game. There's always that one individual who makes you truly fall in love with the sport, whether it was Jordan in the 90's, or Lionel Messi in soccer. One becomes hooked because they are so much fun to watch. Cleveland has an excuse, but I'm not too sure why other fans across the nation hate LeBron so much. Maybe it's because he's beating their favorite teams, or they don't want to see him surpass other greats, such as Kobe. People need to stop focusing on the little mistakes he makes during the fourth quarter, and praise him for the ridiculous blocks and dunks he makes day in and day out. You may miss out on the beauty displayed by the greatest athlete of this era.
Ultimately, he broke Cleveland's heart and it's just sad that he's winning titles and it's not with Cleveland. I'm sure the fans will get over it and forgive him one day, but they may never forget. Cleveland hasn't won a championship in about 50 years. If LeBron brought a championship to Cleveland, then maybe he'd be loved once again. He would be a hero in the city of Cleveland and throughout all of Ohio. For now, Cavs fans will have to be patient and wait for the summer of 2014. Being a huge Cleveland sports fan, I myself, along with almost every other citizen in this town, am anxiously waiting to see if LeBron and the Cavaliers make amends and reunite one day.
–